Content
Professional Keyword Suggestion Tool for Amazon
Amazon's search engine plays a key role in how users find products. That is why business owners who aim to be successful on this platform pay attention to their listings the same way those with websites pay attention to their rankings in search engines. The search engine optimization process starts with keywords. To help people find your page, it's crucial to understand what it is that they are looking for. To solve this issue, most business owners can use our Amazon keyword tool. For better website and business optimization, pro specialists use the
company name generator
to add extra keywords into the business name finding process.
Why is keyword research not sufficient for Amazon products?
Even though Amazon's search engine system shares similar characteristics to Google, it has its own algorithms and specifics for targeting an audience's preferences, because people on Amazon use different words to look for things than when looking on Google. Luckily, there is an alternative approach: using specific algorithms designed specifically for Amazon and its pages' optimization. That's why we developed Kparser's free Amazon keyword tool, an instrument specifically designed and customized to collect keywords for listings and product descriptions, including Merch and Kindle. Krasper analyzes searches that users perform on the platform and compares the results to existing page content. By its design, it doesn't just collect search queries but combines the process with an innovative analytical approach, gathering the most relevant short and long tail keywords.
How to Use the Amazon Keywords Tool?
It's easy. All you have to do is enter the name of your product, niche, or field, and Kparser will go through hundreds of thousands of popular search queries and select the most relevant ones. You don't need a background in SEO or professional assistance; the process is straightforward and can be easily understood by anyone. After the research is complete, you can see the results organized by by rank, volume, and CPC (cost per click). Let's look at what this all means.
Kparser Rank
For efficient Amazon page optimization, the number of keywords doesn't matter as much as their quality. That's why we aim not only to simply provide the widest range of queries to choose from, but we also make sure that the options are actually relevant. That's why we have created an algorithm that assesses the quality of the merchant words and its relevance to the searched for topic. This is how we determine the quality of the keywords and their relevance:
Our algorithm analyzes existing pages optimized for your keywords and assesses their profitability.
The tool analyzes how often searches with these queries converted to sales or, at the very least, on-page interactions (clicks, scrolls, etc.)
We combine popular and unpopular keywords in order to provide you with different possibilities for optimizing your page for both competitive and non-competitive keywords.
Volume
To calculate the search volume for a particular query, we have built a checker that counts the number of keywords entered only on Amazon – not on Google or any other platform. Currently, the platform does not have an Amazon keyword finder, so we have developed our own methods for calculating search volume as precisely as possible. Our algorithms analyze daily search results for hundreds of thousands of different categories and, based on the research, it determines the most popular and relevant queries for a particular niche.
Cost Per Click
One of the main purposes of keyword research is not just to improve organic traffic to your website, but to determine what search queries will affect your advertising. In Kparser, we use similar algorithms to those that Google Ads uses,; the only difference is that Google is evaluating Google search queries, and our Amazon keyword research tool is focused only on Amazon searches.
What is an A9 algorithm and how does it work?
A9 is Amazon's very own search engine, along with its own algorithm, that they developed to help index their pages, control search results, and rank products for specific keywords and terms. On A9, the more often a customer searches a term and then buys a product related to that word, the higher that product will rank on Amazon's search engine.
How is A9 different from Google?
One of the main differences between Google and A9 is that A9 uses better and more sophisticated algorithms for its search engines. Secondly, A9 has less ads, giving users the possibility for higher organic traffic without having to pay for promotion.

A9 has different ranking algorithms
It's logical that A9's algorithms are tightly connected to the specifics of content on Amazon's pages. The main factors in ranking are the following:
Listed and described relevant keywords – the more questions from customers you answer, the greater your chances of receiving better rankings
Your title and description should be optimized for main keywords just as you would on Google
Product bullets can be optimized with both low-competition and most searched keywords on Amazon to target a larger audience
As you have noticed, all of these criteria include selecting relevant keywords and optimizing the content for such queries. That's why using dedicated tools to collect semantic core is crucial for successful A9 search engine optimization.
How can Kparser help you find the most relevant Amazon keywords for your product pages?
The process of finding the best keywords with Kparser is straightforward. Let's break it down in a single step-by-step checklist: Enter the name of the field you work in. In this example, we entered "cutting boards" as a starting keyword. To broaden the search, take a look at related topics that could be used for other searches. Try combining these keywords with the first one and together they will help you to get more results and broaden the scope of your optimization. After you've completed your search, export the results to the preferred format. This will help you to actually use your keywords for direct advertising campaigns and analytics.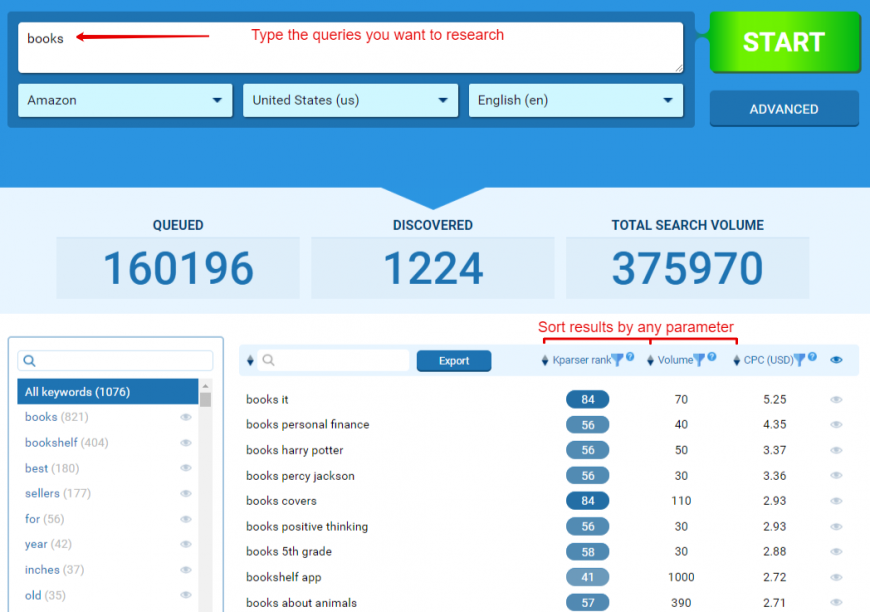 To finish exporting, subscribe to the platform, and choose the monthly plan beforehand. We propose that you choose from among our Basic, Pro, and Free features. The more advanced the plan is, the more functions available to you.
What are the main functions of Kparser?
You have 15 sources of parsing, including Amazon.
38 languages available for working with different countries and accessing global markets.
Exporting results and automatically setting up CPC campaigns in the advanced version.
The possibility to segment your search with filters such as location, time, topic, etc.
Why is Kparser better than other similar Amazon keyword research tools?
It's true that Kparser is not the only keyword research tool out there. We weren't the first to develop the algorithms, but we learned from the mistakes of those who got started before us, and we have adapted to current trends. When we were figuring out how to promote our products on Amazon's pages, we needed software that would allow us to quickly and transparently collect keywords for page optimization while also giving us insight on their relevance and popularity.However, other existing services had several critical flaws which made it difficult to rely on them every day.
Limited Free Plans
The first problem we encountered was the high wall of limitations for unpaid propositions. If you wanted to explore, filter, and export the results, it was obligatory to pay. The free versions only allowed us to browse through the results, and that obviously did not give us the full picture of possible search queries. That's why we decided to base Kparser on the Freemium Strategy, where the free version of the product has all the necessary functions to make it a go-to research tool. Yes, some features are slightly limited, but it's a fully working instrument, ready to be used from the beginning to the end of the process.
No Relevance Evaluation
By making our own mistakes and failures, we found out that the keywords we collected were not actually relevant for the promoted product. That's because most existing tools focused on the number of keywords rather than on their quality. Kparser rank eliminates this issue by analyzing the possible effects of using a keyword on the product's page. You use recommended search queries that were already evaluated as relevant for your products.
No Pay Per Click Algorithms
Having extensive experience using Google Ads as our main research tool, we know how convenient it is when an Amazon keyword research tool can automatically set-up an advertising campaign. Existing tools either lacked such features at all or they were underdeveloped. When we created Kparser, we focused on solving these problems and made it possible to create a direct advertising campaign, as well as to predict its cost and outcome. Planning, management, and execution – it's all in one package.
Let's See What Your Customers Are Looking For
Now that you are familiar with the product, it's time to see Kparser in action. Just enter the name of your product's niche and let the tool do the work for you. It will take only a few seconds and you'll find out your customers' interests and get insights for optimization and your advertising campaign. It's time to kickstart your keyword research for Amazon or
eBay
products with Kparser!
Subscribe To Kparser Right Now
18 sources of parsing
38 languages
248 regions
Real time data
Advanced filters
Copy to clipboard unlimited number of results
Download in CSV unlimited number of results
Copy to clipboard unlimited number of results
Download in CSV unlimited number of results
Subscribe Now
18 sources of parsing
38 languages
248 regions
Real time data
Advanced filters
Copy to clipboard unlimited number of results
Download in CSV unlimited number of results
Average monthly searches
CPC on Adwords
Copy to clipboard unlimited number of results
Download in CSV unlimited number of results
Average monthly searches
CPC on Adwords
Subscribe Now
18 sources of parsing
38 languages
248 regions
Real time data
Advanced filters
Copy to clipboard up to 2000 results
Download in CSV up to 2000 results
Copy to clipboard up to 2000 results
Download in CSV up to 2000 results
Subscribe Now
30-Day Money Back Guarantee
We provide 30-day money back guarantee. It means that you can safely subscribe and try
Kparser for a month. If you realize that it is not for you,
you can email us within 30 days to get a full refund.
Parsing on