Content
For What 3 Main Purposes Can Google Keyword Planner Tool Be Used?
According to the latest report from Netmarketshare more than 80% global search engine market has been acquired by Google. This means that Google has the most complete and reliable data about human needs and desires in every moment, than any other company in the world. So, marketers and entrepreneurs can't ignore this fact. Market research, trend forecasting, development of marketing strategy are built on some data. Better data you have, the better forecast you can build. So, Google Keyword Planner is universal tool, that can helps in three ways:
All these objectives can overlap. But the methods of using Google Keyword Suggestion Tool are similar.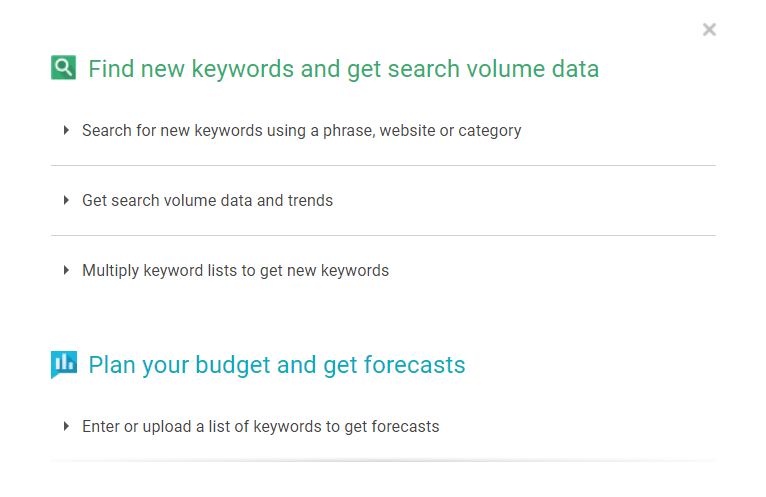 We can use 4 functions. Each of them is important. Most likely you've used only 1-2 in the past. Right now you have an opportunity to expand your own arsenal. Learn with attention every function of keyword planner and then we show nuances of keyword research separately for SEO and PPC campaigns.
Function 1: Collect the maximum number of relevant keywords
This step is the most popular.
Imagine which keywords target audience use looking for your product, service, information and type them as seed keywords.
Use an existing landing page to get relevant keyword suggestions (you also can use competitor's landing page for that)
Research keyword ideas for some category (our Google Keyword Planner alternative has a great structured hierarchy of information categories)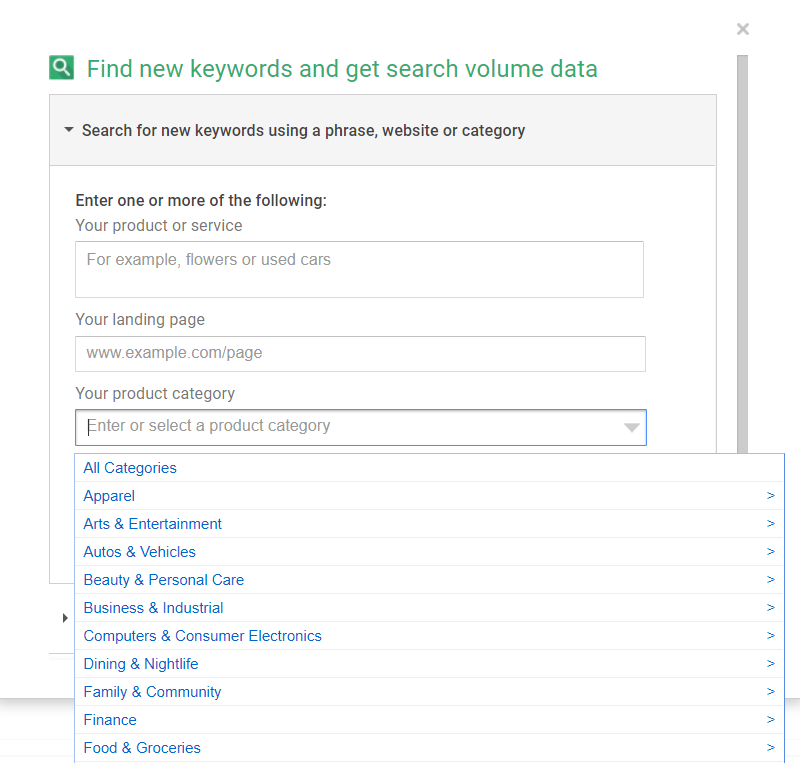 Here the main goal is to collect as much relevant keywords as you can. Combine these 3 steps and you'll have a really huge keyword list.
Function 2: Get search volume for a ready keyword list
Here you can use all keywords, which you've collected at the first stage. In fact a lot of keywords can be from other services. You even can gather keyword suggestions from YouTube, Bing, Amazon, eBay and upload one file with them to Google Planner.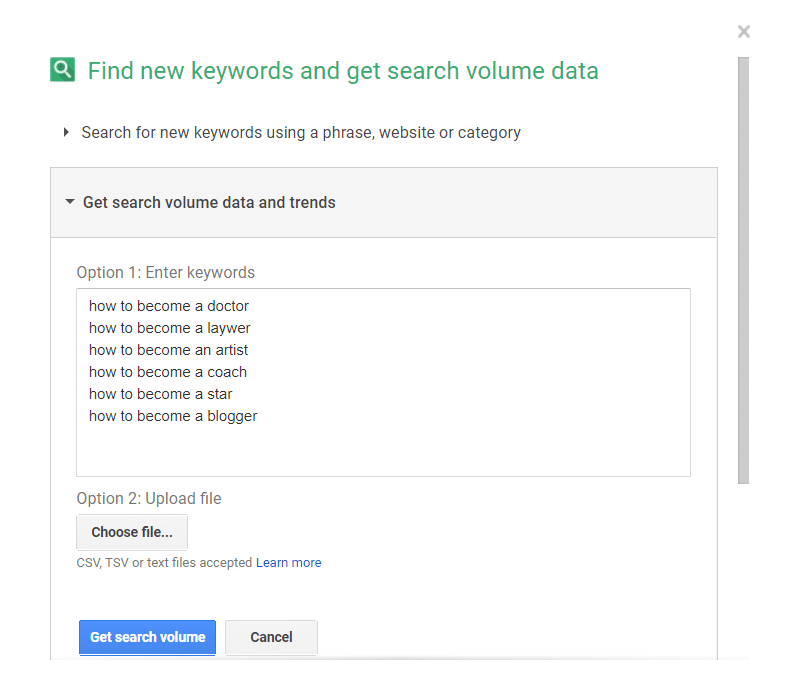 As a result, you have a better keyword list, than if you'll use just Adwords Keyword Planner.
Function 3: Multiply keyword lists to get search volume for absolutely new suggestions
Google Planner shows a limited number of results for your seed keywords. We don't know the algorithm, which it uses for choosing which keywords to show. But we know exactly, that multiplying keyword lists helps to find new valuable phrases.
Look at the screen below and you'll find that keyword planner multiply only exact phrases. It isn't add any new words, alphabets, numbers etc.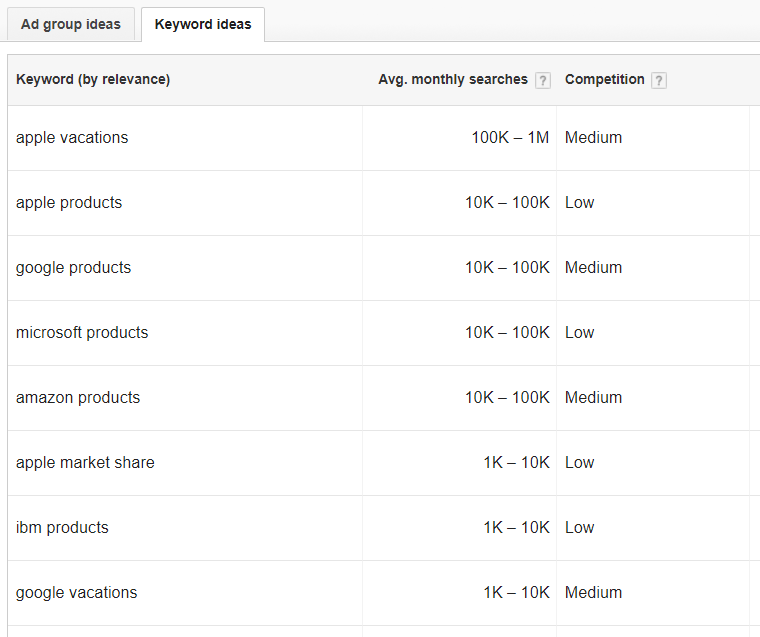 That's why, to get new and profitable keywords, you should use in the first keyword list as many keywords with different length, as you can. So, the best way is to multiply keyword list which was collected not only from keyword planner but from other sources too. It grows your chances to find search volume for suggestions, which you didn't see using the only first function
Function 4: Get detailed forecasts for Adwords campaigns
Usually, this is the final step in keyword research. Finishing three previous functions you should have as much long keyword list as possible.
Keyword planner shows a lot of valuable data when you plan the budget for campaigns. The approximate number of impressions, clicks, average CTR and average position depends on exact keyword, device, location helps to understand market demand, target audience, and your own opportunities better, the without such forecasting.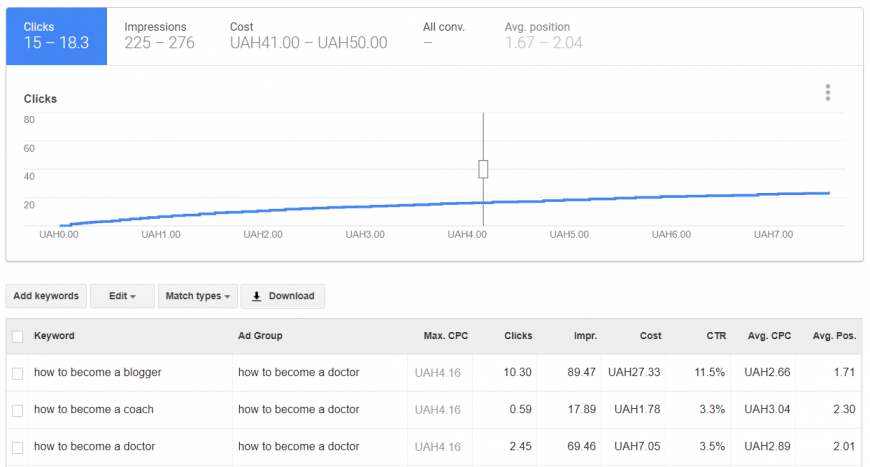 In fact, you can use this function not only for Adwords (PPC), but for SEO too.
Pros of Using Google Keyword Planner
By default, keyword planner was developed exactly for advertisers in Google Adwords Tool. So, this is an ideal software for PPC campaigns, but not the only one.
The
first pros
of Google Planner is the most complete and reliable data for the exact query. This conclusion is built on the above information. 80% of search engines market means a lot. The
second pros
of Adwords Planner is its interface and functions. It remains a standard of good keyword tool for a long time. All other keyword research tools were developed depends on a similar approach and used Google Keywords Planner features as an example. The
third pros
is regular improving. Adwords keyword planner is a good example of how to combine a stable quality with important innovations.
Cons of Using Google Keyword Planner
The
first con
 is closed access to an accurate search volume for non-paid users. Only users with running campaigns can see the exact number of search volume per phrase. In some ways, it is really fairly decision. But the keyword research process without accurate search volume in most cases is insensitive. So you have a few ways. Spend some money on ads in Adwords and get access to the exact search volume or use other keyword research tools, which shows search volume for free. The
second con
 is the number of collected suggestions for seed keywords. You see on the screenshot above, that Google Planner suggested 521 phrases for seed keyword "how to become". It's a great result. For a lot of advertisers and SEO beginners, this number is enough. But if you want to do professional keyword research, you should use a couple of tools. So, let see, how much results Kparser (our alternative to Google Planner) shows for such seed keyword.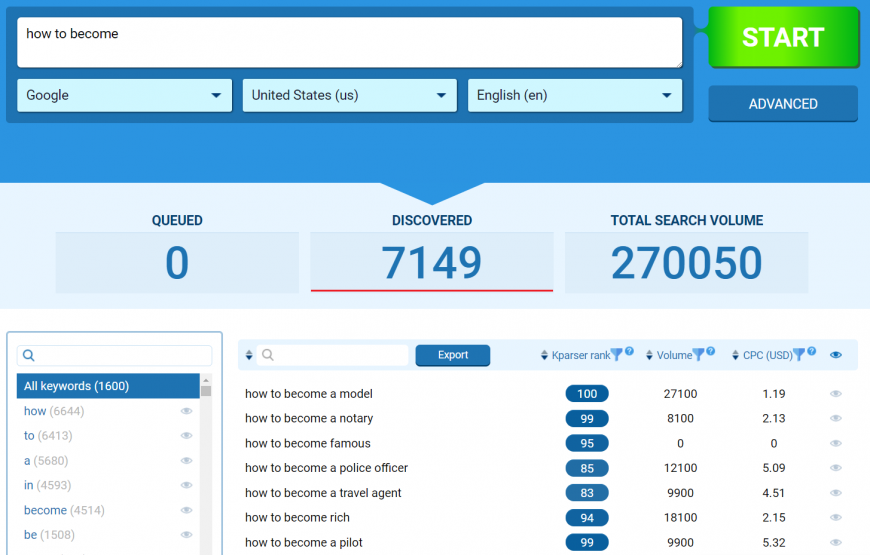 7149 phrases. 14x more results. Yes, it's a fact.
This proportion isn't the same for different seed keywords, but the rule works. Pay attention, that in Kparser we've got 14x more phrases, each from which includes a seed keyword "how to become". The difference in number of collected keywords depends also on the difference of algorithms which Google Planner and Kparser use for the suggestion. So, we guess, that the
third con
 is "relevance" algorithm of keyword suggestion process. We don't know the exact formula of how it works. But our experience shows that due to this algorithm Google Planner can show as really interesting and profitable keywords such a lot of unnecessary phrases that can also impress your
Google Adwords quality score
. Kparser uses Google Autosuggest mechanism to collect long tail suggestions for seed keywords. If you'll use all features of "Advanced mode" you would get more phrases with a guarantee.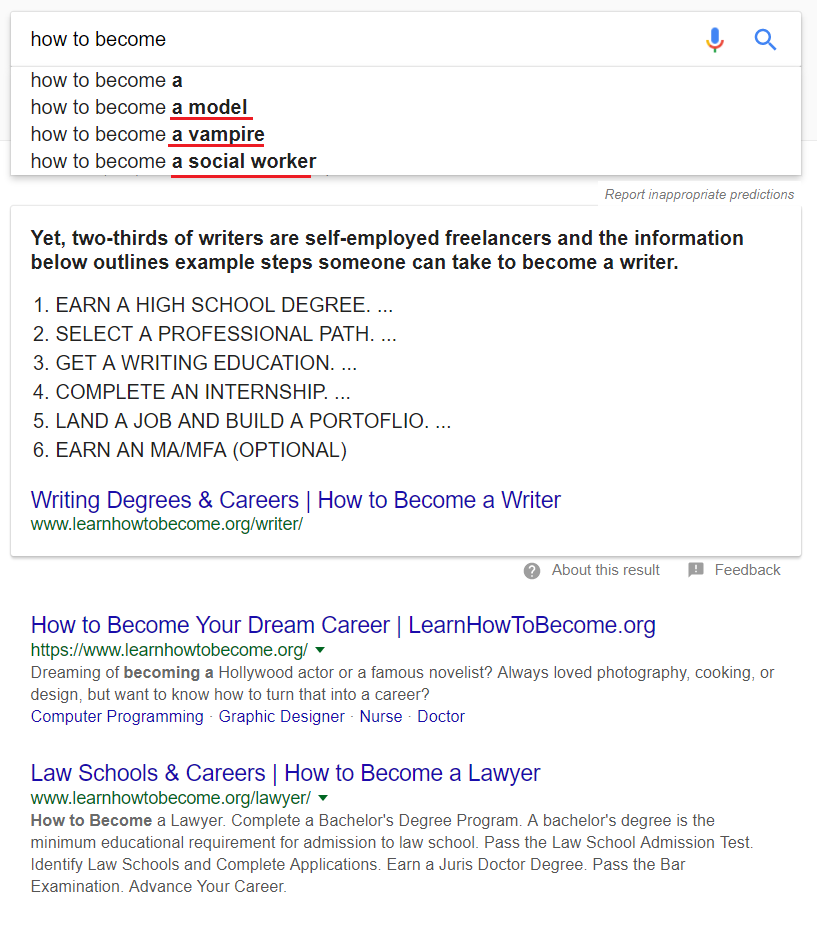 What to use, Adwords Keyword Tool or Kparser? The answer is both. In some cases Kparser can be a great alternative for Google Keyword Planner, but using both tools helps multiply your keyword research efficiency in several times. The algorithm is follow:
Research your niche in Google Keyword Planner (the availability of keyword groups and related keywords helps to collect a wide range of very different keywords. Create a first list of main keywords you'll use in own SEO or PPC campaings.
Use Kparser to expand number of profitable long tails for collected on previous step keywords (low competition x high volume)
As a result, you'll get as wide as possible semantic core for your website. In case you are only planning to make a website, take a look of the
expired domain list
. It'll help to create a unique website title or buy it instantly.
How Kparser Can Help You to Increase ROI in Google Adwords?
Kparser can help to increase your ROI using two methods:
Expand your keyword lists in ads with a huge list of long tail suggestions with a very low competition level from Kparser. As a result you'll reduce general CPC and get more traffic for less price.
Expand your negative list on all levels (account, group, ad) to avoid unrelevant clicks. As a result you'll cut costs on "bad traffic" which is the big problem for a long time on the way to ideal optimized campaigns.
How Kparser Can Help You to Increase an Amount of Organic Traffic?
Kparser can help you in follow steps:
Get new content ideas for website. Especially for blogs and content projects, try to combine Google Search Trends and Kparser.
Expand by long tail suggestions existing page. For better result combine data from Kparser and Google Search Console.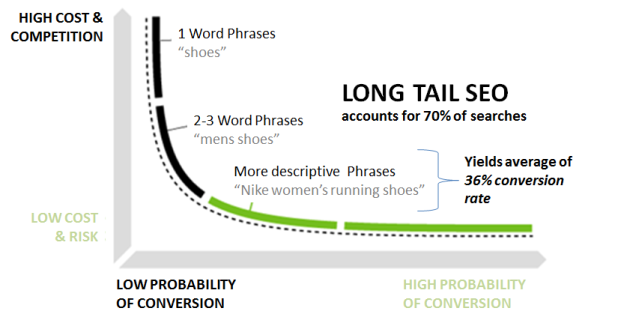 The first way helps to grow the number of valuable pages, the second helps to grow a number of ranked keywords in the TOP. Also, you can try
company name generator
for SEO optimized business name creation.
# of pages
x
# of keywords in the TOP positions
x
# of search volume for keywords in TOP
=
# of organic traffic
Grow each part of formula regularly and you'll grow an amount of your organic traffic.
Subscribe To Kparser Right Now
18 sources of parsing
38 languages
248 regions
Real time data
Advanced filters
Copy to clipboard unlimited number of results
Download in CSV unlimited number of results
Copy to clipboard unlimited number of results
Download in CSV unlimited number of results
Subscribe Now
18 sources of parsing
38 languages
248 regions
Real time data
Advanced filters
Copy to clipboard unlimited number of results
Download in CSV unlimited number of results
Average monthly searches
CPC on Adwords
Copy to clipboard unlimited number of results
Download in CSV unlimited number of results
Average monthly searches
CPC on Adwords
Subscribe Now
18 sources of parsing
38 languages
248 regions
Real time data
Advanced filters
Copy to clipboard up to 2000 results
Download in CSV up to 2000 results
Copy to clipboard up to 2000 results
Download in CSV up to 2000 results
Subscribe Now
30-Day Money Back Guarantee
We provide 30-day money back guarantee. It means that you can safely subscribe and try
Kparser for a month. If you realize that it is not for you,
you can email us within 30 days to get a full refund.
Parsing on